News
ACADEMY VILLAS
Assisted Living and Retirement News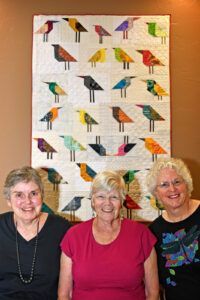 New Fabric Art on Academy Villas Living Room Wall
New fabric art has now become a permanent addition to the extensive and growing art collection at the Academy Villas.  For example, the walls contain many pieces of art that brighten the rooms and are a joy to view.  Further, residents also bring their favorite art works and photos to their rooms.   This large wall hanging seen in the photo above is called "Lovely Birds", and is now hanging on the Academy Villas living room wall.
Academy Village Quilters
This fabric art wall hanging was created by three members of the Academy Village's Quilting Group.  The hanging consists of 30 very different, colorful birds, two of which are upside down. Fortunately, the quilters designed the wall hanging specifically for the Academy Villas walls and is well loved by the residents. For example, several residents have selected their favorite birds, and a couple of the birds now have names.
Art in the Villas
Art has been described as essential to the human spirit.  For example, art makes you think, it takes you to places, and makes you feel something.  Further, art also says things that words just can't say. For these reasons, art is a major element of the decorations in and activities of the Academy Villas.  Residents, themselves create art, and join the art classes sponsored by the close-by Arizona Senior Academy.
SaveSave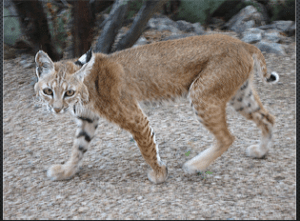 Wildlife Surrounds the Academy Villas
Wildlife surrounds the Academy Villas and can be seen on a daily basis.  The Southwest desert of the United States supports a huge variety of fascinating creatures. The very pretty bobcat in the photo above lives in the Village.  While you would not want to get too close to him, he does not disturb humans.  And there are many other forms of wildlife that live close the Academy Villas. Because we have a number of excellent photographers in the Villas and Village, we have gathered photos that represent the desert wildlife seen every day.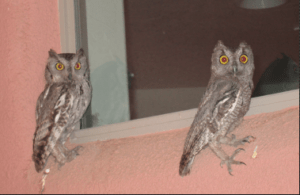 Photos Taken by Villas Residents and Villagers
The photo of the bobcat was taken by Villas resident, Roger Shepard.  The screech owls, above, by Village resident Marcia Neugebauer.  Amazingly, these owls live in Marcia's front porch.  While they are quite small, their eyes seem huge and they are constantly checking everything out. Like Marcia and Roger, many residents and Villagers take photos of the wildlife.  Subsequently, we put together a number of these photos of wildlife, birds and insects, for others to see. There are 110 photos in this collection.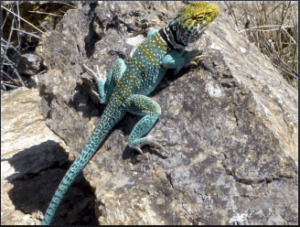 A Veritable Desert Museum of Amazing Creatures
Tucson, AZ  supports one of the best Desert Museums in the world.  However, the placement of the Academy Villas in the Rincon valley provides amazing sights every day.  In a sense, the desert around us becomes its own wildlife museum. Above is a photo of a Collared Lizard. This lizard changes color very quickly if it is disturbed.  These and other photos of wildlife by residents and Academy Villagers may be seen here.
SaveSave

Green House Approach And Academy Villas
The Green House approach to senior supportive care strongly influenced the building and running of the Academy Villas.  Recently, a research study was conducted that offers support for this approach (New York Times).  This nine year study found that the Green House approach is "a preferable model of care."  Specifically, it led to a smaller percentage of residents who were bedridden.  Further, there were fewer avoidable hospital visits and readmissions. The study suggests that these and other positive outcomes are related to to the central aspects of the Green House approach.
Smaller, residential style buildings with, private rooms for residents
Residents have considerable say over their lifestyles in the residence
Well-trained staff that maintains close, nurturing relationships with residents
Benefits to Residents
Residents in Green House facilities can determine the rhythm of their day. This is because of their small size and well-trained staff. For example, residents can get up when they want, and eat breakfast when they wish. They know all the other residents and are close to the staff members. Further, the study found that, on average, the well-trained staff members spent twice as many hours per day with individual residents than in other types of facilities. In addition, Green House staff members know the likes and dislikes of the residents, and are therefore more aware of changes in health conditions.
Academy Villas now has two assisted living residences that embrace the Green House approach to supportive care for seniors.
SaveSave
Call or Visit Today
Academy Villas | 7700 S. Vivaldo Court | Tucson, AZ 85747 | 1-520-647-7500